Waste Collection FAQs
Can't remember which bin needs putting out? Perhaps you've been overwhelmed with rubbish this week and don't know where to get rid of it all?
Don't worry - we've got you covered with our handy FAQs.
There are six people in our house and we've only got one general waste bin.
If you have six or more persons in your house, you can get an extra green bin by ringing the council on 0115 9152000 or visiting their website. There is a £15 charge per bin.
Please note that in order to qualify for an additional green bin, you must be using your grey lidded brown bin correctly.
We've filled the bin up. What can I do with these extra bags that won't fit in?
Firstly, check you're recycling properly and getting as much as possible into your recycling bin as this will ease the pressure on your general waste green bin. If you have 6 or more people in your house think about the question above. However, as long as waste is in a black bag and tightly secured (double bagging is a good idea), you can place additional bags neatly next to your single green bin for collection. The bin crews will collect all properly presented waste.
If you already have two green wheelie bins, you are not permitted to add bags next to the bin.
Our landlord has left bulky rubbish in our garden.
If your landlord is not responding or failing to take timely action and the waste on your property is not your responsibility, please report it to community protection on 0115 9152020.
I can't wait for bin day, I need to get rid of some rubbish now.
You can take household rubbish and recyclables to Redfield Waste and Recycling Centre, which is located on Lenton Lane near to the Showcase Cinema. For more information, visit Nottingham City Council's website.
Can I go on holiday and leave this waste for my landlord to clear up?
Not a good idea - it might cost you! If there is an identified problem with waste management at your property and the community protection officers cannot make contact with a tenant, they will instruct the landlord to clear up. However, this will be at a cost to the landlord and they may re-charge that fee to the tenants.
What can I recycle in my grey-lidded bin?
What does 'properly presented waste' mean?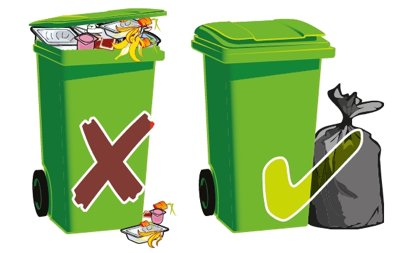 Can't find what you're looking for?
Get in touch with us if you think there is something missing, or if you have a question you can't find the answer to.